Sales Geek are moving up in the world, quite literally, as we move into our new offices on the 5th floor of One Cathedral Square, Blackburn.
We are delighted to announce that we have successfully transplanted our Geek Bunker into the wonderfully rejuvenated Cathedral Quarter in Blackburn. We moved in Friday, 28th August and have only just recovered from carrying a sofa and a pool table up 10 flights of stairs because they wouldn't fit in the lift! However, the view that greeted us when we finally reached our new digs made the sweat (and a few tears) worth it. We still haven't got used to our lofty perch on the 5th floor and our views across the Cathedral and onwards through East Lancashire and don't think we will any time soon.
At Sales Geek we are absolutely committed to 'changing the way the world perceives sales'. Change, with purpose, is therefore right at the heart of our mission. And (you may have noticed) we have been growing. So a move was on the cards, even if lockdown moved the timeframe. Our three wins at the Red Rose Awards (Humblebrag😊 ) tripled our resolve to invest in the heart of Lancashire. We want to deepen our Lancastrian roots, commit to our growth here and provide an aspirational environment, not just for our clients that visit us, but for our team of Geeks too. One Cathedral Square is somewhere we can all come and be inspired, be creative and even perhaps grease the wheels with a well deserved drink at the end of a hard days work. We have retained enough space to continue to provide our on-site training and made it much more accessible for people around the region to get Geeky with us with the train and bus station literally on our doorstep for when our Covid response relaxes.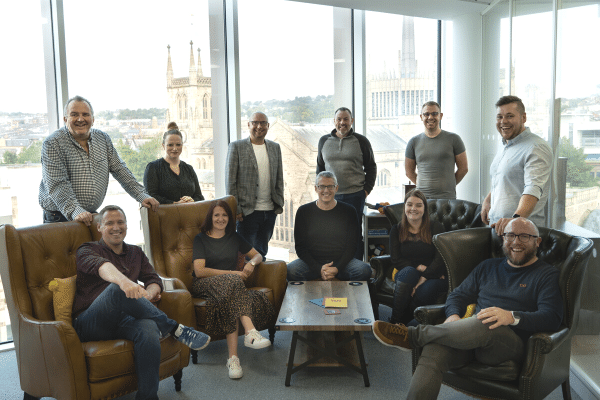 Chief Geek and Founder, Richard said:
"We couldn't be more proud or excited to have moved our entire head office into the magnificent One Cathedral Square. We really see it as a big step up in our Lancashire presence and a fantastic investment in our team. Cathedral Square is a buzzing location and a fantastic environment to work in. Literally across the road from Blackburn station, our links to our national audiences are massively improved, while the revitalised square itself provides a hugely superior lunchtime offer for our busy team!🤓 While we successfully joined the rest of the world in remote working during Covid-19, we're big believers that 'teamwork makes the dream work', and nothing beats the face-to-face interaction that comes with a fun and dynamic office environment. So the move is a massive step-up and in the right direction for us in providing the very best environment for our team to work their magic, together"
The Geek Bunker | 5th Floor - One Cathedral Square | Cathedral Quarter | Blackburn | BB1 1FB | 01254 355 661