online sales training.
Delivered
Your
ONLINE SALES training
award-winning expert sales training
Download the FREE Sales App Now
Why Choose Your Sales geek Online SALES TRAINING?
Our online sales training packages have been designed to help you:
Grow your sales pipeline
Smash your sales targets
Increase your sales revenue
WHY SALES GEEK?
Sales Geek is one of only 20 sales training centres worldwide that are accredited by the Institute of Sales Management. Our experienced sales training team are some of the best sales trainers around but they have also sat exactly where you are now. They have been junior sales people, successful sales leaders, Directors and Business Owners. We can collectively draw on hundreds of years of sales expertise and sales training experience to ultimately give you a delightfully fresh and Geeky insight into top level sales performance.
WHAT WILL I LEARN THROUGH ONLINE SALES TRAINING?
Our online sales training features short sales training videos on a range of sales related topics through our Hub App Package. 
We also have long courses in our Unlimited Package covering all aspects of sales, from developing a sales strategy and targeting the right sort of clients, through to how to handle negotiations and close your clients the Geek way. 
WHAT DO I GET IN THE SALES TRAINING PACKAGES?
With the Hub App you get access to hundreds of short free sales training videos (typically <15 mins per video) and podcasts. 
You also get access to our Community within the app where you can chat to others and ask us any questions you need help with.
Unlimited Package users also get sales courses that range from 60 minutes sales courses to 120 minutes of sales training, delivered by our top team of Sales Geeks. Each sales training course comes with downloadable worksheets so you can answer questions and come up with answers, right alongside the video.
HOW DOES IT WORK?
For free App only users you will sign up online below or download the Sales Geek App from the AppStore or PlayStore and register there.
For Unlimited Package Users you get access to the App as described above and also get enrolled into our state of the art digital learning system so you can begin your learning immediately with the suite of sales training courses we have already available
Sign up for free on Desktop or mobile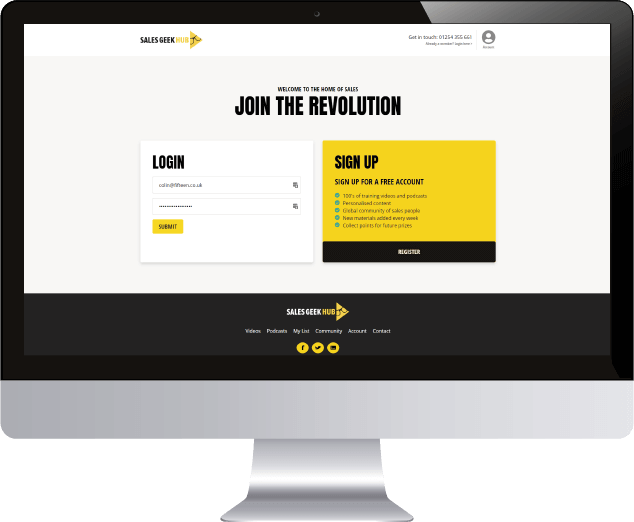 online Sales TRAINING Packages
At Sales Geek we believe great sales training is a right, not a privilege, so we wanted to offer everyone the opportunity to begin understanding sales the Geek way! Choose one of the options below that suits your needs.
100s of Short Training videos
Manager Performance Dashboard
All 60-90 Minute Sales Training Courses
Access over £60,000 worth of content
(podcasts and workshops to enhance your leaders and teams skills)
Access over $60,000 worth of content
Sales Geek Academy
(for sales teams of 5+)
Access over $60,000 worth of content
* All prices are subject to VAT and will be renewed annually
Buy individual online SALES training Courses
The individual sales training courses below are available now with more coming soon.
Click each button to find out more and purchase your next online sales training course.
Communication techniques
Find your Geeky voice
How to build rapport quickly
1.5 learning hours
* All prices are subject to VAT
Fantastic bunch of amazing people who really want to genuinely help you and your business. They put themselves in your shoes. I'm not a sales person, i'm a techie but when i'm in the Geek Bunker with them I become a sales machine! I wouldn't hesitate in reaching out to them – see for yourself. P.S I got the The Sales Geek Hub app, if you don't know what that is then you're not living in 2020!
Managing Director – Broadband 9
Working with the Geeks on the Your Sales Director package was an easy one. I've known Richard and Jonathan a few years and it has been a real pleasure watching their team grow. Strategy, direction, focus and advice have all come in abundance and the experience within the team is phenomenal. We work very close with Jedi Master James and there's just no way we could employ a team to have that knowledge and expertise on tap!! If you're not working with the Geeks you should seriously consider doing so rather than employing a Sales Director.
Managing Director, Jets GPS Fleet Solutions
Sales Geek have taken the time to understand our business, our sales process, our strengths, our weaknesses and our requirements. A series of bespoke courses have been designed and delivered by both Jonathan and Erik with excellent content, fantastic engagement and exceptional delivery. My team and I have benefited greatly from our partnership and look forward to growing and developing in the coming years.
Sales Director at Praetura
In order to grow our business we recognised that we needed to be better at the sales process. Engineering businesses aren't renowned for embracing sales so we needed a passionate and energetic team to teach us the processes and transfer enthusiasm into the business. After making contact with Richard and Jonathan via their engaging content on LinkedIN we mapped out the processes, introduced a CRM and tasked some existing staff members with more sales focussed activities. The benefits to the business were numerous, visibility of activity, key sales metrics and success in terms of conversion rates and ultimately an increased orderbook! The expert approach of the team at Sales Geeks drove the focus in the right areas of the business at just the right time. I would have no hesitation in recommending the Sales Geeks to any business who wants to train their staff, improve their processes and their sales
Managing Director, Delta Rock Group
I attended the social selling course with Sales Geek in October 2019. One for my personal development but secondly to see if there was enough value in it for my team to do it. Well I booked my guys on the next session before I left, there was oodles of value. The way the course is delivered and broken down means someone who has very little experience of LinkedIn can participate and come away with so much more confidence as you are working on your on social media brand whilst in the workshop. If you have a wealth of experience on LinkedIn I'd be surprised if you didn't come away with some golden nuggets too. Recruitment has been changing over the last 10 years, and whilst I have a presence on there I wasn't sure if a) I was promoting the business the right way b) I wanted to be highlighting my 20 years' experience and knowledge without coming across as arrogant c) Learn how to add value to our clients and potential new customers Our engagement has increased on LinkedIn our connections are quality connections and we certainly are adding value and being seen as one of the experts in our field. Three words to describe it Fun| Interactive| Enlightening I loved the course so much, my whole sales team went on it and we introduced it to some of our clients and suppliers to. My team are way better than me on there now, I may need to refresher and new tips….let me know when the next one is guys. 5* recommendation thanks guys